Person Centred Care
At Ami Group we value each resident's unique life and enjoy spending time listening to their great stories of the past, build on their interests, so that we are able to focus every aspect of our care around each resident's individual aspirations. We get to know each person well and we work with them to create tailored care plans, social activity plans and menus to suit their individual needs. This enables us to strive to ensure that their every preference, need and wish is supported to enable us to facilitate a positive experience.
We believe that a holistic approach is the key in creating a person-centred care plan. We dedicate extra time to engage with our valued families and carers as well as the residents' themselves to understand the exact requirements of their care plan.
Our families and friends are absolutely pivotal in helping us create care plans based completely around each resident's needs, wishes and preferences. This means we can support each resident in the best possible way and help them to continue to live as independently as possible, doing the things they enjoy, living a rewarding and fulfilling life.
At every stage, our philosophy is to be dedicated to working together to meet the individual needs of all our residents.
Alongside this, we boast our Care Champions initiative, which means that a team member is dedicated to specialist care areas including dementia, diabetes, pressure area care, so on and so forth. This enables our dedicated staff to draw on their expertise when creating an individualised care plan.
We continue to invest heavily in technology, we use our endless drive to be environmentally friendly and strive in contemporaneous care notes. We now have computerised resident notes, policies and procedures, and medication  administration systems enabling us to spend more time delivering great care.
We encourage all our residents to take an active role in everyday activities around the homes, that gives them a sense of purpose and helps them to retain their independence.  When you visit our homes, you may see our residents singing, having a manicure done, laying tables, watering plants and helping in the garden.
Dining & Nutrition
Enjoying a healthy nutritionally balanced meal to maintain overall health and wellbeing is at the pinnacle of carefully creating our mouth-watering, seasonal menus.
We are committed to preparing hearty home cooked meals using fresh, locally sourced ingredients. Our innovative and experienced team of chefs collaborate with our residents in creating our menus that offer a wide variety of delicious meals.
Our chefs have the culinary expertise to cater for all specialist diets either for medical, religious or cultural reasons. Our innovative chefs deliver flavoursome, tempting and nutritious meals to all our residents.
We want our residents to look forward to and enjoy their dining experience. Each resident can choose to enjoy their meal in the social dining area, where chefs will serve delicious meals straight from the hot trolley. Whilst residents can choose to have their meal in their own rooms, we do encourage all our residents to eat together to make the most of this valuable social time. Staff are always there to support residents with their meal, with the utmost care, respect and dignity.
Residents are encouraged to play an important part in preparing some meals. It is a great source of reminiscence, as well as a chance to retain independent living skills.
Variety is the spice of life, and every month our residents are enabled to visit  a different part of the world to try exotic new dishes and flavours or reminisce about past holidays. Our chefs and well-being team work together to celebrate each vibrant country with authentic décor, music, costumes and food and drink.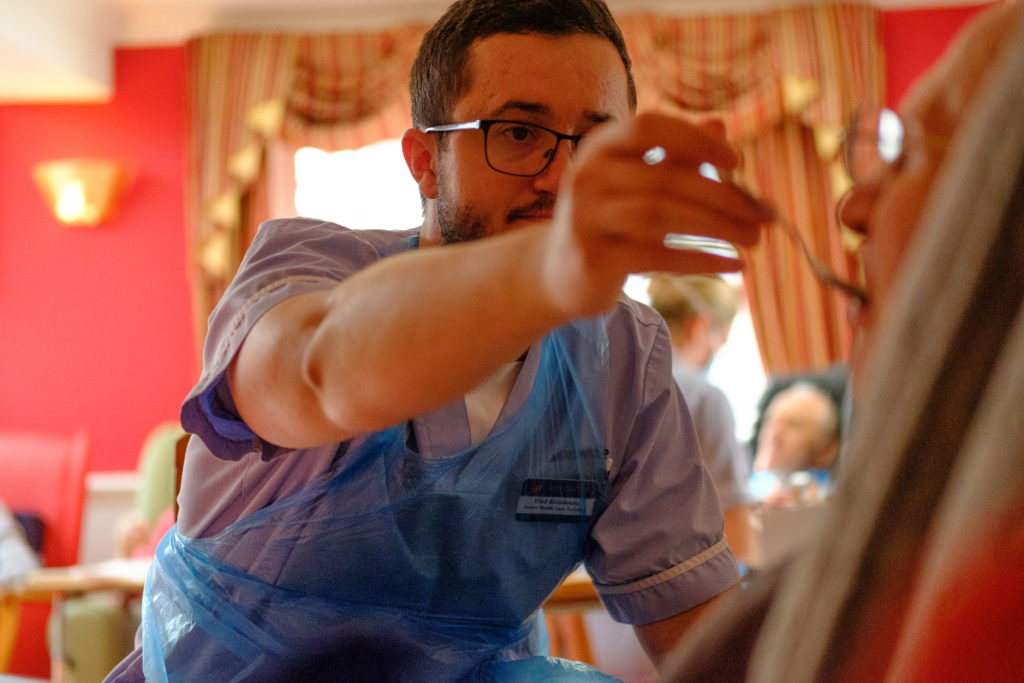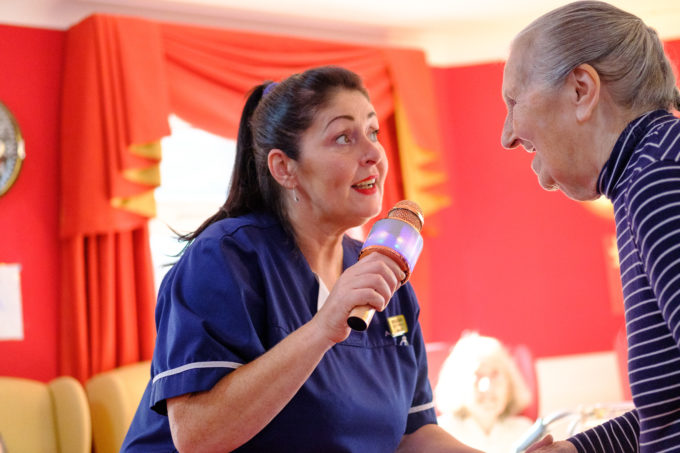 Well Being
Ensuring our residents are physically and mentally stimulated is important in enhancing their health and mental well-being. At Ami Group we have a team of well-being coordinators who spend a great deal of time getting to know each resident, finding out about their hobbies and interests and learning about what makes them feel fulfilled and rewarded.
We encourage our residents to bring in their personal belongings and keepsakes to really make it feel like their home as they continue their pastimes and hobbies they have always enjoyed.
Most rooms have a lockable memory box outside the room to help our residents with orientation.  It can be something for everyone to admire as well as a great conversation starter and a significant point of reminiscence and a great landmark of sense of belonging.
Our outdoor garden spaces mean residents uphold their hobbies if they wish, enjoying the beautiful coastal air and soaking up the sun.
Throughout the year, we hold events such as summer BBQ, fundraising events, garden parties and the annual Christmas party as we encourage families and friends to join their loved ones in all celebrations.
With a wide range of activities and events, residents feel fulfilled, content and happy; every day is different.
Out and about
Sometimes a change of scenery is just what the doctor orders and we like to treat our residents to day trips to stimulate mental and physical well-being. All of our homes are close to the famous Deal town and the beautiful English Coastline.  Ami Group has its own brand new dedicated mini-bus which can take our residents between our sister homes and also for planned trips out. Our dedicated well-being coordinators can arrange group or 1:1 outings around Deal and further afield. This could be to pastures new or somewhere to bring back fond memories, the opportunities are endless including a hot chocolate or an ice cream by the Deal Pier.
To make medical appointments more comfortable and reassuring for our residents, we also have the use of a luxurious mini-bus to take residents to their local appointments.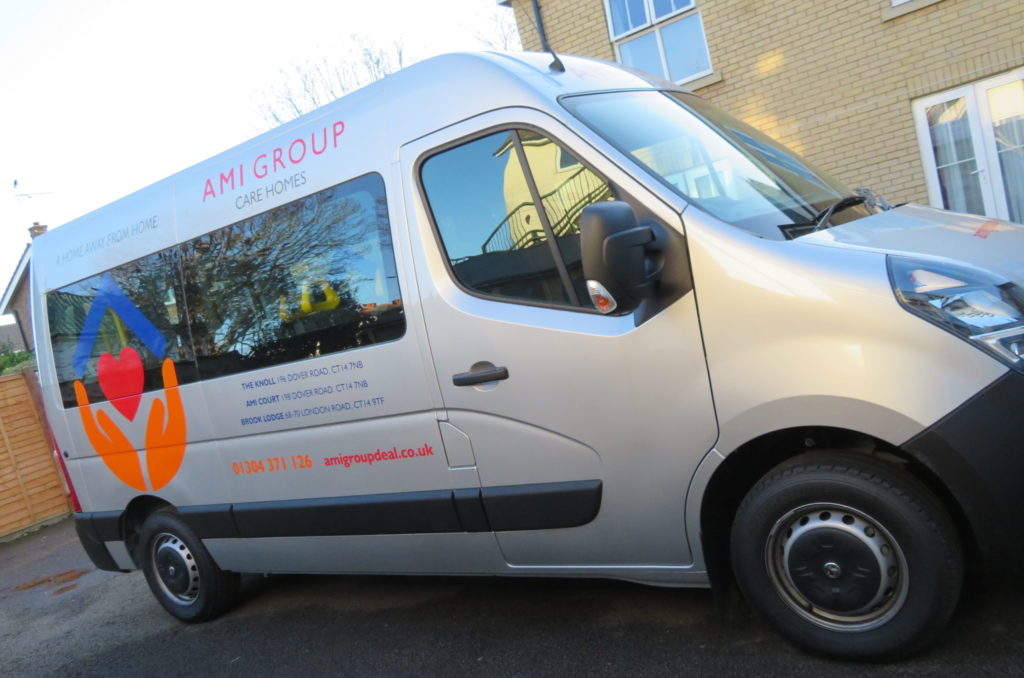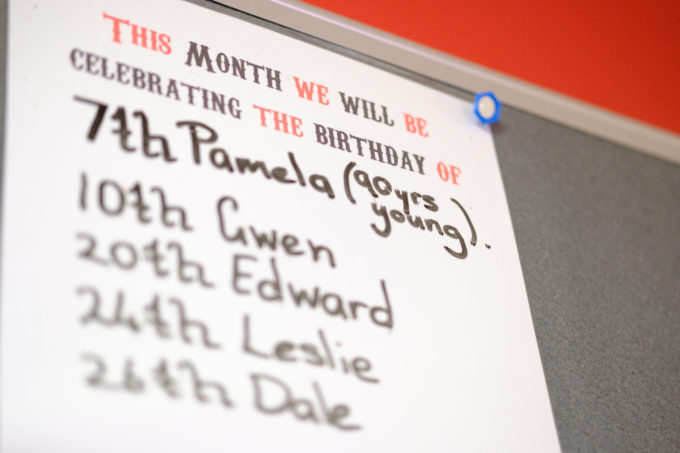 Patient of the day
Why wait for a birthday or a special occasion to spoil each resident?
We want to have as many of those memorable moments as possible to make each resident feel special and valued.
Our aim is to make patient of the day as special as possible for each resident and to make them feel extra special.
We encourage friends and family to join in. Each resident will wear their best clothes, enjoy their favourite meals from a special menu and spend extra time with the well being team doing something memorable.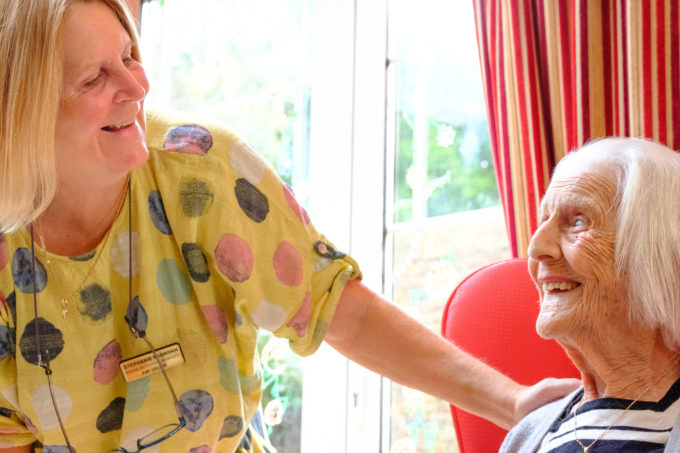 Visiting
What is better for the welfare of our residents, than a visit from a loved one?
We know it can be difficult to be away from your loved ones and we take every opportunity to welcome family and friends for visits and to join us at every special event and occasions.
It is always nice for your loved one to have personal special items with them, so we kindly ask family and friends to bring in a few things. This could be special photographs, sentimental items, toiletries, clothes and any food or drink items they love.
Visiting your loved one can be emotional and overwhelming, and we have a caring team who are always available for a chat, comfort and who are great at making hot, soothing cups of tea!
Please note, during the Covid-19 Pandemic, our visiting guidelines have changed. We are now following Government guidelines for Care Home visiting, to ensure the safety of our residents, staff, and visitors.