OUR HOMES
Brook Lodge – Jasmine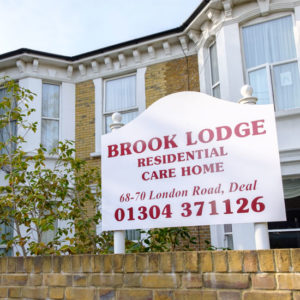 Our 28-room sister to Lotus is Jasmine, an elegant, early-20th century building which offers a manor-house lifestyle. Including one couples room, we're proud to offer the highest standards of residential care, rehab care and dementia care led by our deputy manager.
Brook Lodge-Jasmine Unit has 28 individually, tastefully decorated bedrooms.  Jasmine Unit has three large spacious lounges, with dedicated activities areas.
There is a beautiful south facing 'Sun Room' with views of the landscaped garden with many mature trees and shrubs for relatives and friends to meet their loved ones or to enjoy some fresh air and the great outdoors but never being far away from the hub of the home. 
Jasmine Unit houses a separate dining room, for residents to enjoy the fine dining experience.  The large oak sweeping staircase, intricately detailed coving and ceiling roses are just a few of the many period features this beautiful large, spacious building with timeless décor boasts.
"Nothing [is] too much trouble for the staff they look after the residents with impeccable care and attention. The residents are always clean and tidy, they are fed well and always seem to be relaxed.

"I have never looked back since the day my mother moved into the Jasmine Unit I was a little worried because I thought my mother would feel as though I had locked her away but she quickly made friends and gets a lot of chance to help out where possible. Thank you Jasmine Unit keep up the good work."
"A very big thank you to you and your team for all the care and kindness you gave to my dad. I'm sure he was a very different character to your usual residents and will be remembered for it! You are all very special and wonderfully caring people. Best wishes to all. "
Next steps
With three homes in the heart of Deal, our care homes provide an idyllic seaside setting for that special time of life. Call or email us to find out more about what Ami Group care homes can offer you and your nearest and dearest.
Contact Us